Cabinets
Finding cabinets suitable for the apartment context has been somewhat of a challenge.  There are many custom cabinet manufacturers in the Bay Area who can fashion very sustainable and environmentally friendly cabinetry, but at a price that is not within a property managers budget.  Furthermore, for owners who need to renovate a unit's kitchen as quickly and efficiently as possible, custom cabinetry like this cannot be produced in a fast enough manner.
One cabinet manufacturer, however, does approach the level of convenience that is necessary for these sorts of renovations.  The Impact cabinet at Executive Cabinetry is a cabinet line that is being catered specifically to apartments.  These cabinets are American made, FSC certified with a waterborne finish and no added formaldehyde.  The Impact line has received both Greenguard Children and Schools, and the Environmental Stwerardship Program certification fron the Kitchen Cabinet Manufacturers Association.  However, this product comes at a high a premium–over 100% the cost of a standard cabinet product.  Also, an older post on Sustainable Schmidt points out that there are some questions about the toughness of the KCMA Environmental Stewardship Program certification.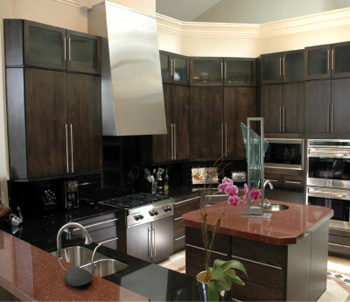 Standard, solid-wood, cabinetry can be found at any retailer in the Bay Area.   L&T Granite is the retailer we chose for our renovation.  Although this may be the "standard" for this industry, these products do have environmental and equity concerns.  Made abroad, these products have to shipped, and are not designed with the end of their life-cycle in mind.  These cabinets also off-gas chemicals, which may affect indoor air quality.  A greener alternative is needed in this category, that still has the convenience and affordability necessary for the renovator.
Click here to return to Sustainability Product Scale.