I have been dormant for the past several weeks and I apologize greatly.  Between school, teachers, projects, tests, essays, standardized testing, sleep, finals, friends, family, and non-existent girlfriends, I have been quite busy and have not had the opportunity to sit down and write one of my grand pieces.  Those of you who actually read this may now rest assured because with the dawn of summer comes much free time in which I will have to dedicate myself to informing you, the beloved reader, about what is happening in the world of green.  Now let us begin.
In a recent survey 34% of consumers believe that their houses could be more environmentally friendly.
How does one make their home more environmentally friendly?  I believe it is my job to answer this question (I think, not quite sure) but lucky enough for me (and for you) the New York Times has a list of their favorite eco-friendly laundry products.
Furthermore, for all those who think that green is your passion and you want to find work in the area, the San Francisco Chronicle recently released an article stating that are over 10,000 green jobs out there.
The World Cup in Qatar is still eleven years away ; however, Qatar promises that their stadiums will be eco-friendly.
Now, the beginning of summer (I'm really excited, can't you tell?) brings with it warm weather (if you're not stuck in San Francisco) and that usually means lots of cold refreshments being served, like Pepsi.  Speaking of Pepsi, they have recently announced that their Frito-Lay factory in Russia has received LEED certification.  So if you want to kick back and relax this summer while still being environmentally friendly, put down the Coke and find yourself some Pepsi.
And to wrap this week up I bring you another ugly or not ugly.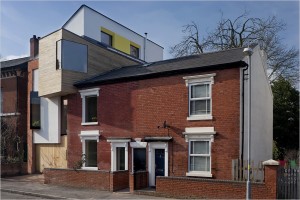 Click here for more information of this house.